Solzhenitsyn: exiled then exalted in Russia
The Nobel Prize-winning writer gave voice to millions imprisoned in Stalin's Gulag. He died Sunday.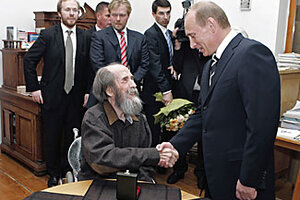 Ria Novosti/AP/File
The Russian media erupted Monday with praise for Alexander Solzhenitsyn, the Nobel Prize-winning writer whose stormy life reflected Russia's 20th-century vicissitudes almost as dramatically as his own literary work.
Mr. Solzhenitsyn, who spent eight years in the USSR's sprawling Gulag prison camp system and two decades living in exile, passed away Sunday in Moscow.
"Until the end of his days he fought for Russia, not only to move away from its totalitarian past but also to have a worthy future, to become a truly free and democratic country. We owe him a lot," the independent Interfax agency quoted the last Soviet leader, Mikhail Gorbachev, as saying.
It was Mr. Gorbachev's campaign of sweeping democratic reforms that made possible the restoration of Solzhenitsyn's Soviet citizenship and publication of his works in the twilight days of the USSR.
"He was one of the first people who spoke up about the inhumanity of Stalin's regime with a full voice, and about the people who lived through this but were not broken," Gorbachev added.
---