Russia pushes an 'OPEC' for natural-gas nations
The world's biggest suppliers will meet in Moscow on Nov. 18 to finalize plans for a cartel to control gas prices.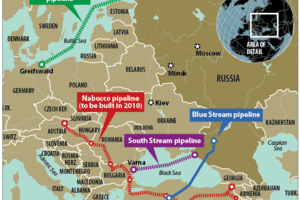 Scott Wallace – Staff
The nations with the world's three biggest reserves of natural gas – Russia, Iran, and Qatar – are quietly moving ahead to form a "gas OPEC," an organization modeled after the oil cartel.
In Tehran last week, representatives of the Russian natural-gas monopoly Gazprom met with counterparts from Iran and Qatar and agreed to create "a big gas troika." The group will meet quarterly to discuss pricing and supplies. Between them, these three countries hold an estimated 55 percent of known global gas reserves. The possibility of a cartel has long been opposed in Washington and European capitals.
The new cartel plan may be finalized Nov. 18, when Russia hosts a forum of gas-exporting countries in Moscow, including possible additions to the group such as Algeria, Indonesia, Libya, and Venezuela.
---
Follow Stories Like This
Get the Monitor stories you care about delivered to your inbox.