Global survey: youths see spiritual dimension to life
In the most ambitious such review to date, young people in 17 countries most often defined spirituality as belief that life has a purpose, belief in God, and being true to one's inner self.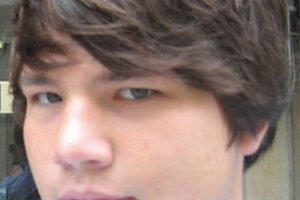 Courtesy of Search Institute
Around the globe, the vast majority of young people share a conviction that life has a spiritual dimension. Seventy-five percent in a recent survey believe in God or a higher power. And while some can't easily define spirituality, the majority say they have had a transcendent experience, believe in life after death, and think it's "probably true" that all living things are connected.
For two years, a project involving some 7,000 youths ages 12 to 25 in 17 countries has explored spiritual beliefs and experiences – and found youths eager to discuss them. It's the most ambitious such project to date.
"It's how I see good in the world," explains participant Ryan Mooney, a college freshman in Portland, Ore., who is Jewish but spends hours reading the teachings of other faiths. "That all these religions formed by different societies come around to this sentiment of striving toward goodness gives me faith in the world."
The initial findings were released Wednesday by the Search Institute, a Minneapolis-based independent research group. The group intends to plumb the results further and carry out additional research in countries around the world.
"I was surprised by the similarities we found across different cultures, even though they may have different languages and worldviews," says Eugene Roehlkepartain, the Search Institute's vice president. The institute hopes to encourage a broader look at the impact of spiritual development on other aspects of life.
---