US case highlights Cuban 'slaves' in Curaçao
A federal judge in Miami last month ordered a shipping firm to pay $80 million for conspiring with Cuba to abuse workers.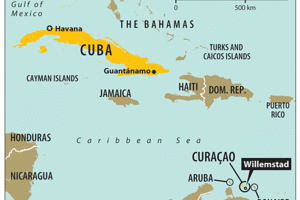 Rich Clabaugh/STAFF
Willemstad, Netherlands Antilles
Olivia Ocampo well remembers the night the two Cuban workers came to her house in January 2005.
Exhausted and afraid, they had escaped from the premises of the nearby Curaçao Drydock Company, where they said they and some 100 other Cubans had been forced to work 112 hours a week fixing ships for three cents an hour.
Ms. Ocampo approached the police and government authorities in Willemstad, the capital of the Netherlands Antilles, a Dutch dependency in the southern Caribbean, but "they just wanted to push all the trash under the carpet and say that everything is fine," she said.
But last month, a federal judge in Miami ordered the shipyard to pay the workers and one of their colleagues a total of $80 million in damages, after finding it had conspired with the government of Cuba to force them into what was, in effect, slave labor.
The case has focused a spotlight on the shadowy corners of the global economy, where capital moves freely across borders and laborers are sometimes forced to follow in bondage. While most cases involve abuses committed in developing nations with poor human rights records, this took place within the Kingdom of the Netherlands, home to the International Court of Justice and the International Criminal Court.
---