Europe hopes havens will give bees a break
Plan Bee encourages governments to set aside safe places for bees to buzz.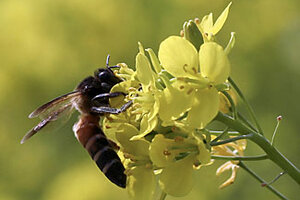 Rupak De Chowdhuri/Reuters
Hoping to avert a growing catastrophe, the European Parliament has approved the creation of bee "recovery zones" across the Continent.
Intended to boost plummeting bee numbers – as well as stave off further agricultural losses – the measure garnered the support of an overwhelming majority of members when they voted on the measure late last month. The recovery zones will provide bees places to buzz that teem with a diversity of plants rich in nectar and pollen, as well as free of pesticides.
Despite their ponderous bureaucratic moniker, the zones are based on a simple, age-old idea, says Raffaele Cirone, president of the Federation of Italian Beekeepers.
"They are just grassy lands left uncultivated and unfertilized, where flowers can grow freely, to the benefit of insects who feed on them," Mr. Cirone says. "Leaving areas uncultivated is part of the farming and beekeeping tradition in Italy and many other European countries."
The idea is not just good for the insects. Intensive agriculture can impoverish the land. Bee-friendly production calls for alternating fields of crops with uncultivated grassy areas. These grassy swaths are ideal places for apiaries.
Switzerland, which is not part of the European Union, already has a law setting mandatory quotas of "environmental compensation zones," ranging from 1 to 2 percent of cultivated areas, says Theo Nicollerat, president of a Swiss beekeeping association. "Rather than for recovering insects, they are mostly intended as a tool to preserve farming land."
---