Nervous Russia stomps dissent
Economic angst is prompting more rallies Sunday. How will the Kremlin react?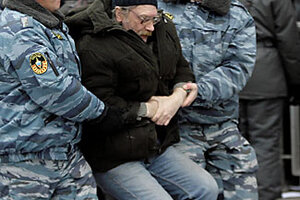 Mikhail metzel/ap
The collapse of oil prices and the Russian ruble have ignited relatively small protests against the government here. But reaction from the Kremlin has been fast and furious.
Nationwide rallies planned for Sunday are expected to draw even larger crowds and will be the next major test of a Russian leadership increasingly anxious over dissent.
Leaders of the still-influential Communist Party, which is staging the upcoming rallies, say the Kremlin's fears were on display during protests last weekend in Moscow and St. Petersburg, when thousands of riot troopers confronted a few hundred demonstrators from the Other Russia, a broad anti-Kremlin coalition, and arrested 150 of them.
"On its face it seems ridiculous to see thousands of cops beating up a handful of peaceful demonstrators; logic dictates that they ought to ignore us," says Eduard Limonov, leader of the banned leftist National Bolshevik Party. "But the authorities fear opposition and ... [as the economic crisis grows] they have good reason for that. They read the FSB [security police] reports and they know that we are very well organized and ready to lead in the case of mass social unrest."
Mr. Limonov was among those detained and allegedly manhandled by police last Sunday.
Communist Party leaders have called for a nationwide day of "anticapitalist" rallies Sunday against growing unemployment and price rises. Although it's never easy to predict how many protesters will show up, organizers feel safe in their forecasts that hordes of police will be on hand.
---