Azerbaijan threatens to muzzle independent radio
Foreign licenses, such as the BBC's, could be yanked as Baku tilts away from the West.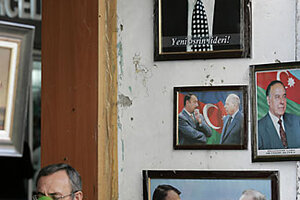 vano shlamov/afp/getty images/newscom
Recent government threats to stop issuing broadcast licenses to foreign media, including the BBC and Voice of America, is further evidence of crumbling press freedom here and may reflect the country's shift away from Washington in favor of Russia, experts say.
Earlier this fall, government officials threatened to terminate the licenses of several prominent foreign broadcasters. Although these news organizations could continue to work in other mediums – including the Web, cable, and satellite – radio remains king of independent media in this tiny, oil-rich nation.
The decision would effectively silence foreign media, says Kenan Aliyev, director of Radio Liberty in Azerbaijan. "If we lose FM, we lose 95 percent of our audience."
The popularity of foreign broadcasters has skyrocketed in recent years, and the threats to remove them from the airwaves have sparked grass-roots opposition campaigns on the Web. One listener recently wrote to Radio Liberty, "I was not this upset when my father died."
Although the government defends its decision as lawful, critics call it a political move aimed at consolidating state control over media and silencing criticism.
US diplomats have spoken out against the threat to yank licenses, but Azerbaijan's strategic and energy importance makes the issue delicate, says Sean Roberts, Director of the International Development Studies program at George Washington University's Elliott School of International Affairs.
---