Law targets unruly beggars in Ireland
With the Celtic Tiger faltering, some say the crackdown will only add to the misery of the poor.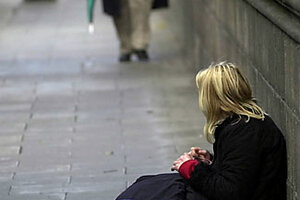 AP/File
New restrictions on begging are being instituted here for the first time since the potato famine of the 1840s.
Although merchants say changes are needed to deal with an increasingly aggressive and organized cadre of panhandlers, critics call the measure an unnecessary criminalization of society's most vulnerable members.
"It's very much a crude, 19th-century response," says Joe Costello, a spokesman for the opposition Labor Party. "Begging generally reflects a range of social problems, and simply imposing a punitive response is not addressing these problems."
The legislation, which authorities say was meant to address a legal loophole – not the predicted increase in vagrancy caused by the faltering economy – will impose a maximum fine of €700 (about $1,000) or a month in prison for "aggressive" begging. As the changes are enacted in coming months, the Garda, or Irish national police force, will also be given new powers to order beggars to desist.
The impetus for the law came after Ireland's High Court ruled last year that the existing Vagrancy Act of 1847 – an antibegging law introduced by Britain during the Irish Potato Famine – was outdated and interfered with an individual's right to freedom of expression.
"Authorities had no legal powers to prosecute cases of begging," says a spokesperson from the Department of Justice. "The minister [of Justice Dermot Ahern] decided that this was an unacceptable situation."
Business and tourism interests lobbied the government to fill the legal lacuna. Tom Coffey, CEO of the Dublin City Business Association, says the new law is needed because members of his association have been victims of organized begging and increased levels of intimidation.
---