Reporters on the Job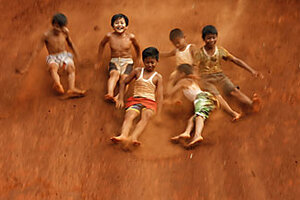 Beawiharta/Reuters
• 'Bye Bye Bush' Shoemaker: Ramazan Baydan claims to be the maker of the famous shoes thrown at President George Bush during his last visit to Iraq . Whether he is or not, correspondent Yigal Schleifer says that he's is clearly a shrewd businessman (see story).
He arrived in Istanbul as an 11-year-old village boy with little schooling. At first he labored in small shoemaking shops and worked his way up to having his own shoe company that last year sold 90,000 pairs.
"My interview with the shoemaker, though, left me wondering whether Baydan was stretching the truth at times. He claimed to have big orders from the United States, but then declined to provide any information about these big buyers. When I asked for details about 'big orders' from Europe, he also refused to provide any details," says Yigal.
But Baydan's shop was clearly working in overdrive to make copies of the famous shoe for delivery to Iraq. "Still, his low-tech workshop didn't give me the sense that it was the kind of place that could meet all of the demand that Baydan says he is now being asked to supply," says Yigal.
---
Follow Stories Like This
Get the Monitor stories you care about delivered to your inbox.