Why Al Qaeda isn't gaining a foothold in Cambodia
The post-Khmer Rouge nation is a portrait of tolerance for Muslims, but the US worries that this could change.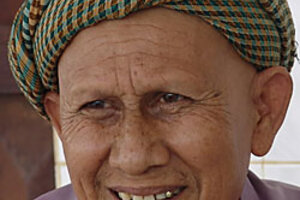 David Montero
In this village, and others like it throughout Cambodia, Muslims and non-Muslims live side by side in harmony, their existences unmarred by the toxic cocktail of government repression, separatist ambitions, and growing radicalism characteristic of many neighboring countries.
"I've been living with Muslim neighbors since I was young," says resident Ouk Ros. "When there's a marriage, we join together in the party."
Still, as money and influence from the Persian Gulf pours into Cambodia, many fear that pockets of the 400,000 strong Muslim community could fall into the orbit of a less-tolerant form of Islam.
"There are some organizations here from the Middle East that are very radical and that are very intolerant, and they are trying very hard to change the attitude and the atmosphere of the Muslim population here," the outgoing US Ambassador, Joseph Mussomeli warned in August.
A unique confluence of modern history, geography, and government initiative have combined to foster tolerance in Cambodia, many observers here say.
In Thailand and the Philippines, Muslim communities are concentrated in separate – and often disadvantaged – territories, which are byproducts of ancient kingdoms to which Muslims once belonged. Separatists in Thailand's south have been fighting for greater autonomy since 2004 and in the Mindanao area of the Philippines since the 1970s.
---