Global court starts with a fumble. Warlord grins.
Witness recants testimony during start of Congo militia leader Thomas Lubanga's trial.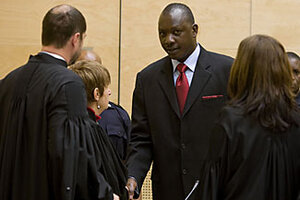 Reuters
The script was set for the first trial of the world's first permanent war crimes court this week:
Chief prosecutor Luis Moreno-Ocampo went after warlord Thomas Lubanga, charged with recruiting 30,000 child soldiers in the Democratic Republic of Congo, saying Mr. Lubanga's acts would "haunt a generation."
But 48 hours later, the prosecution's first witness, a child soldier, caused the entire court to gasp.
At first, the young soldier said he was snatched by Lubanga's militia on his way home from fifth-grade classes. The witness, now a teen, then threw the landmark case briefly into limbo when he recanted his testimony, denying that he'd ever been a child soldier taken to a military training camp, and that his testimony was prompted by an unnamed nongovernmental organization.
In the court, Lubanga, sitting behind the defense team in dark suit and tie, and in clear view of his alleged former child recruit, smiled.
Prosecutors suggested to Chief Judge Adrian Fulford, of Britain, that the star witness, who was to give two days of testimony, felt unprotected and feared for his safety. A probe is now under way.
The washout of the International Criminal Court's (ICC) first witness is another blow for a court whose own judges nearly threw out the Lubanga case last June over a dispute about evidence sharing.
---