Fight grows in Europe to safeguard a secular Sabbath
Conscience trumps convenience in push to open Sunday shopping.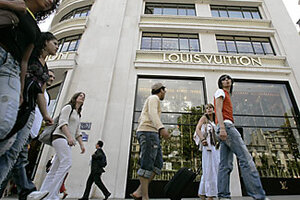 Michel Euler/AP
Cecile Feit holds her Sundays dear. It's the day for romps in the park and family lunches, not for running her children's toy boutique.
When Ms. Feit learned of a proposal to allow shopping centers to stay open Sundays, she protested. The plan, she says, would kill family-run businesses like hers that cannot afford the extra staff. "It's slavery," she says. "There is no respect for people anymore."
Two years ago, French president Nicolas Sarkozy was elected on a platform of adopting free-market economics. Allowing Sunday shopping would let people "work more and earn more," he said.
Indeed, until recently, the American model of 24/7 retail was becoming more popular across Europe. But the downturn has prompted a backlash against unregulated capitalism – from freewheeling banks to liberal hours. Business is hardly booming, but now more than ever Europeans are clinging to their day of rest.
"A society that has no time framework risks falling apart," André Vingt-Trois, archbishop of Paris, said recently, as the financial crisis hit Europe. "Has making money become the cornerstone of everyone's existence?"
Massive opposition from an unlikely front of leftist trade unions, members of Sarkozy's own conservative party, and Catholic bishops prompted the government to back down from the plan.
---