Italy offers banks a $15.5 billion lifeline
A caveat: More credit must go to small firms. Obama is also pushing aid to small businesses.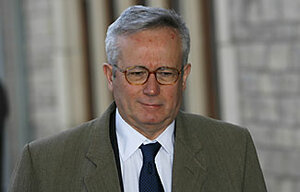 Andrew Winning/Reuters
In an effort to fight the credit crunch, the Italian government recently approved a $15.5 billion plan targeted at helping both small firms and banks.
Under terms of the plan approved last month, the government is vowing to buy special security bonds issued by banks in order to provide them with greater liquidity. In return, the banks must subscribe to a "code of ethics" and guarantee that they will grant more loans to companies with fewer than 250 employees – the same firms that have been the bedrock of Italy's economy.
A similar effort to protect small businesses in the US was expected to be announced Monday by President Obama. Much of the US government's plans to counter the recession have focused on helping massive banks and corporations, but small businesses have accounted for 70 percent of new job growth in the US over the past decade, according to the Obama administration.
The US plan calls for offering $375 million from the massive economic stimulus fund to make it easier for small businesses to obtain credit. "We know that small businesses are the engine of growth in the economy, and we absolutely want to do things to help them," Christina Romer, the head of Obama's Council of Economic Advisers, said on NBC's "Meet the Press" Sunday.
---