Latvia uses police to quash talk of economic collapse
EU leaders met in Brussels for a two-day summit on how to help struggling Eastern European economies, such as Latvia.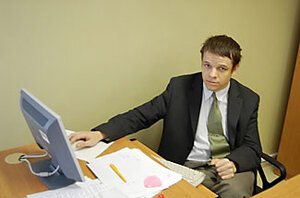 Jeffrey White
Last November, Dmitrijs Smirnovs, a young economics professor in this coastal university town, published an essay in a leading Latvian newspaper warning that the country was heading for a financial collapse to rival Iceland's.
Soon after, the secret police showed up at his home. They held Mr. Smirnovs for two days. The charge: spreading unrest and destabilizing Latvia's financial and banking system.
"I said we are bankrupt. I wrote that people should not have their money in banks, and they should not keep their money in Latvian lats," Smirnovs recalls, sitting in his cold office, the heat turned off, he says, to save money. "That was enough to have me detained. They are still investigating me."
Lawmakers here did not want to admit at first just how quickly Latvia's fortunes have changed. But a shrinking economy, rising unemployment, and a $7 billion loan from the International Monetary Fund have changed that. A new center-right government took the helm last week and hopes to steer this tiny Baltic nation of 2.3 million out of an economic emergency the European Union fears could soon destabilize the whole region.
At a summit in Brussels Thursday and Friday, the EU continued to debate whether to bail out cash-strapped Eastern Europe. Latvia, once a poster child for financial success, is now a cautionary tale of breakneck capitalism that has taken it to the brink of a meltdown.
---