Saving the Galapagos means rebuilding nature
Conservation in Darwin's lab isn't about preservation – it's now an epic experiment in restoration.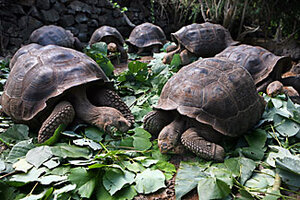 Melanie Stetson Freeman/Staff
Galápagos, Ecuador; and New York
Here, where three Pacific currents swirl together 600 miles from mainland Ecuador, the Galápagos Islands, a chain of dead and active volcanoes, rise from the sea. The archipelago is among the most biologically unique spots on Earth – nature's laboratory, the biologists' mecca that catalyzed Charles Darwin's theory of natural selection.
Five centuries after Europeans first set foot here – and following successive waves of pirates, whalers, colonists, and tourists – the islands retain 95 percent of their native flora and fauna. But as the world celebrates the 200th anniversary of the birth of Charles Darwin and the 150th anniversary of his "The Origin of Species," that triumph is tenuous.
Tourism has quadrupled in recent decades, and since 1991, immigrants seeking a better life have doubled the population. But the greatest threat to the Galápagos is plants and animals that people have brought. Newly arrived species often out-compete – or simply eat – native flora and fauna, driving them out of existence. Even a tiny mainland mosquito carrying disease has a huge domino effect.
Here, as in many other parts of the world, it's simply too late to set aside bits of land and sea and hope for the best. This isn't a "pristine" ecosystem. It's already radically altered by humans and their attendant goats, pigs, dogs, and rats.
Conservation here isn't so much setting an area off-limits, it's restoration – scrubbing the environment of what doesn't belong and rebuilding ecosystems to approximate their former selves.
---