Briefing: Aerial drones as weapons of war
They have been used to attack militants in Pakistan and Afghanistan. But are their benefits outweighed by backlash on the ground?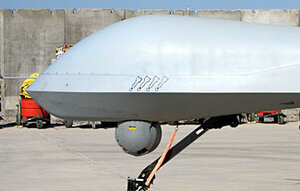 SIPA Photo
What is a drone?
Drones, or unmanned aerial vehicles (UAVs), are remote-controlled aircraft that usually carry cameras to gather intelligence and sometimes missiles to kill.
They range in size from the five-pound Raven, which is launched by an infantryman the way a child throws a paper airplane and costs $25,000 (though a full "system" consisting of three of the planes, a ground control station, and imaging equipment goes for $250,000), to the Reaper, which has a wingspan of 66 feet and is equipped with Hellfire missiles and 500-pound bombs and has a price tag of $17 million.
Though the Navy flew unmanned planes during World War II, the technology didn't catch on until the 2002 invasion of Afghanistan. Then, the US only had a handful of them. Today, there are 7,000 of them in the US arsenal.
What are they good for?
They're particularly useful in theaters like Afghanistan and the tribal areas of Pakistan, where rough terrain and hostile locals make on-the-ground intelligence gathering even tougher than normal. The key to their success is the cameras they carry – and the images they transmit instantly to infantry commanders.
Most drones spend their days looking for improvised explosive devices along roads, flying over villages that troops may be planning to pass through, or watching houses thought to be used by militants.
---