One president for 27 nations: Can Tony Blair lead Europe?
Britain's former prime minister is poised to be the first-ever president of the European Union – a notion that's causing some unease on the continent.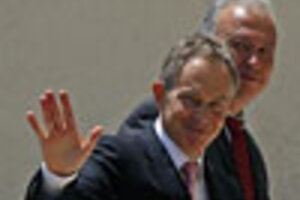 Muhammed Muheisen/Reuters
When Henry Kissinger asked in 1970: "Who do I call, if I want to talk to Europe?" he coined the definitive metaphor for the enduring problem of how the nations of the continent's emerging political union could speak with one voice.
Almost 40 years later, he may finally get an answer in the coming months, when the Europe Union's first president is chosen. Among the likely candidates is former British Prime Minister Tony Blair.
The job of chairing Europe's key decisionmaking body, the European Council of Heads of State, has yet to even to be formally put up for grabs. But jockeying for position in a race set to enliven the EU's often mind-numbingly staid politics is under way behind the scenes, according to experts.
The stakes were raised in recent days, when Mr. Blair's hopes were on the receiving end of a coded rebuke from the Swedish prime minister as he assumed the presidency, currently rotating between member states on a six-month basis.
Small and medium-sized countries, including Sweden, "are less interested in a strong leader, because they see a risk that they will be dominated by the big countries," journalists were told by Fredrik Reinfeldt, who suggested that many states would prefer a figure less likely to pursue his or her own agenda and less likely to put the head of the European Commission, the EU's executive branch, who also sits on the council, in the shadows.
Undefined leadership role
---