S. Africa's unions take demands to the streets
The labor-friendly Zuma is facing pressure on wages and job security. Public anger has led to riots in poor neighborhoods.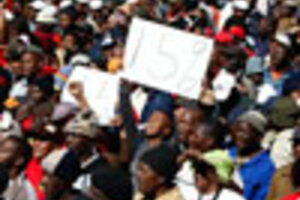 Siphiwe Sibeko/Reuters
As recession continues to take its toll, eliminating nearly a quarter-million jobs in the past few months, South African unions have taken their anger to the streets.
Just months after throwing their support behind the African National Congress and its labor-friendly presidential candidate, Jacob Zuma, unions have demanded greater job security, wage increases, and other benefits. The demands come at a time when neither recession-hit businesses nor government agencies have much extra cash to give.
In Johannesburg, municipal workers tied up traffic in the main business district, marching to city hall with their list of grievances. Chemical workers have threatened strikes against state-owned Sasol oil company. Construction workers are also threatening strikes on massive infrastructure projects, putting South Africa's 2010 World Cup stadiums at risk of missing deadlines.
And today, communications workers announced a renewed strike against the public broadcaster SABC and a brand-new strike against the state-owned telephone company, Telkom.
At a time when South Africa is trying to stand above its African neighbors as a stablemarket and business hub, these strikes couldn't be more ill-timed.
Political observers say that unless President Zuma and his cabinet engage unions, there is potential for further industrial disruption -- and for the anger of working class South Africa to spiral out of control.
---