How world views Obama Nobel Peace Prize
President Barack Obama's Nobel Peace Prize is praised in many countries as a reflection of a "new hope" in world politics, but others worry it came too soon. A global roundup of views.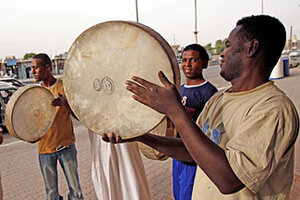 Nabil al-Jurani/AP
Awarding the Nobel Peace Prize to US President Barack Obama only nine months into his term brought surprise and delight in many parts of the world – for those who see it as a broad marker of hope and future global harmony at a time when wars and rumors of wars are deeply troubling.
But the Norwegian Nobel committee announcement Friday brought ample doses of befuddlement and skepticism among officials used to years of hard work to end conflict. Absent a significant peace deal, they worry, awarding the prize to a new president is premature, or could backfire by creating unreasonable expectations of the White House.
The Nobel committee said the award was for Obama's efforts to bring "a new climate in international politics," for which the American leader is "the world's leading spokesman."
At this point, diplomats argue, how the White House wears the prize – in humility or in triumph – will bear greatly on whether politicians and media around the world will accept the choice of the US president, which they say is symbolic rather than substantive.
Speaking in the White House Rose Garden, Obama said he was "deeply humbled" by the decision of the Nobel Committee. "I do not feel that I deserve to be in the company of so many of the transformative figures who've been honored by this prize — men and women who've inspired me and inspired the entire world through their courageous pursuit of peace. But I also know that this prize reflects the kind of world that those men and women, and all Americans, want to build."
A changed world?
---