Burma's junta in a vise
Next year's elections push ruling generals to contain dissidents and quell insurgencies – without annoying China.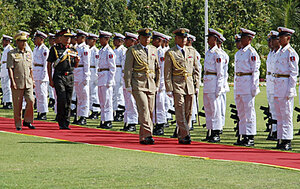 Myanmar News Agency/AP
The military junta of Burma (Myanmar) has been busy consolidating control ahead of 2010 elections. Last month it upheld a sentence giving opposition leader Aung San Suu Kyi 18 more months of house arrest, ignoring US calls for her release and its rare offer to engage the pariah regime. But the government still struggles to quell opposition among ethnic insurgency groups – it has cease-fire agreements with 17 of them – in the country's north and east. The best-armed group is probably the United Wa State Army (UWSA), with at least 20,000 combatants and Chinese-made weapons.
The latest flare-up, in the east Burma region of Kokang, in August, sent 30,000 refugees across the border to China, prompting an unusually stern response from that powerful neighbor. Burmese soldiers captured the insurgents' base on Aug. 24.
What is Burma's goal?
The military would like to neutralize armed threats to its authority before elections next year, its first since 1990. The so-called cease-fire groups – rebels that have signed truces but not laid down arms – are seen as potential spoilers. Ethnic leaders want more autonomy and may block the vote.
Last year, the junta said that all cease-fire groups must convert their armies into border guards under military command. This proposal has been strongly resisted by several groups, including the Myanmar National Democratic Alliance Army, the armed wing in Kokang. By attacking the MNDAA, the junta hopes to scare other groups into complying.
"I don't think the Burmese [military] will give up. They want to get these groups under their control," says Aung Zaw, the editor of Irrawaddy, a Burmese publication in Thailand.
---
Follow Stories Like This
Get the Monitor stories you care about delivered to your inbox.