Would Russia really use nuclear weapons against neighbors?
A new Russian doctrine – which says it can use nuclear weapons preemptively against small regional adversaries – is seen either as a sign of aggression or bluster to mask insecurity.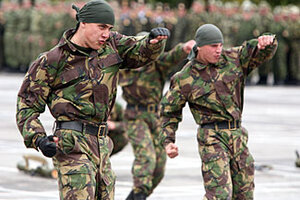 Newscom
The Kremlin is drafting a new military doctrine, due by year's end, that may authorize the armed forces to use nuclear weapons not only to counter a massive conventional attack but even to launch a preemptive strike against a small regional adversary – such as neighboring Georgia or Ukraine – that might be deemed a threat to Russia.
Or so declared the new doctrine's main author, Kremlin Security Council chief Nikolai Patrushev, in a newspaper interview that sent shock waves rolling around the world last month and generated a storm of controversy among military analysts.
Experts divide between those who see the new, forward-leaning nuclear doctrine as a sign that the Kremlin is becoming more menacing toward its post-Soviet neighborhood, and those who view it as an expression of extreme vulnerability at a moment when the Russian military is undergoing its most radical reorganization in almost a century.
What Mr. Patrushev said, speaking to Moscow's biggest daily newspaper, Izvestia, was that, in a big change over the previous doctrine adopted in 2000, "We have corrected the conditions for use of nuclear weapons to resist aggression with conventional forces not only in large-scale wars, but also in regional or even a local one."
A warning or expedient?
---