Berlusconi attack reminds Italians of 'Years of Lead'
The attack that broke Italian Prime Minister Silvio Berlusconi's nose and teeth Sunday is causing Italians to worry about a return to political violence not seen since the 1970s when extremist groups attacked each other and the state.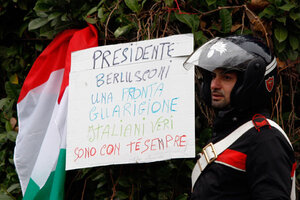 Luca Bruno
Sunday night's attack on Italian Prime Minister Silvio Berlusconi on the streets of Milan has gripped the nation and is causing Italians to wonder if the increasingly tense climate could lead to political violence not seen since the infamous "Years of Lead" in the 1970s and early 80s.
The sight of their stunned and bloodied leader being rushed the hospital with a broken nose and teeth after an attacker hurled a miniature metal replica of a cathedral into his face has brought back difficult memories of the years when right-wing and left-wing extremists battled each other and the state.
Some news reports suggest that attacker Massimo Tartaglia, who reportedly has a history of psychiatric problems, may have acted out of mental instability. But Berlusconi's supporters and allies were quick to blame the aggression on the left-leaning opposition, which has been waging a strong campaign against the prime minister's controversial judicial reform that they say is an attempt for him to skirt his corruption trials.
"I almost saw this coming," was the prime minister's own first comment.
"The aggressor was insane, but the moral instigators are well known," wrote ll Giornale conservative daily, owned by the Berlusconi family. In a front-page editorial published on Monday, Il Giornale blamed the attack on outspoken anti-corruption politician Antonio Di Pietro, talk show TV stars Marco Travaglio and Michele Santoro, and the left-leaning newspaper La Repubblica.
---
Follow Stories Like This
Get the Monitor stories you care about delivered to your inbox.