Copenhagen global warming talks suspended over rich-poor divide
Negotiations on a deal to curb greenhouse gas emissions and head off global warming were suspended Monday morning in Copenhagen, with poorer countries charging wealthier nations aren't prepared to make necessary cuts in CO2 emissions.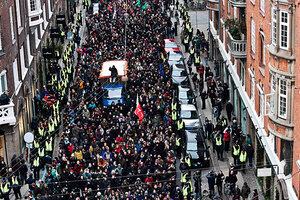 Anders Debel Hansen/Scanpix/Reuters
The final week of Copenhagen global warming negotiations has begun amid rancor between rich and poor nations, with a negotiating bloc of mostly African countries complaining that it looks like any deal will not be tough enough on major emissions producers in the developed world.
The complaints, from the G-77 group of nations that is currently chaired by Sudan, led the Danish hosts to suspend negotiations on Monday morning. Talks are expected to resume in the afternoon on what some are hoping will be a politically binding agreement on curbing global greenhouse gas emissions.
Signs that crunch time is coming emerged over the weekend inside and outside the cavernous Bella Center in Copenhagen, where the talks are being held. Outside, some 40,000 protesters marched on the center on Saturday, calling for immediate action to deal with global warming. The march itself went largely without incident, although police say that additional protests in the city center, away from the negotiating site, led to some 950 arrests. Protesters appeared again on Sunday, leading to an additional 200 arrests.
Inside, the key bone of contention is over whether to replace the 1997 Kyoto Protocol, under which most industrial nations promised to curb their greenhouse gas emissions, with a more robust agreement that would also include emissions reduction targets for poorer nations. There are also talks to extend the Kyoto Protocol beyond 2013 if a new agreement including all nations isn't signed.
Why talks have become heated more quickly than usual
---