Copenhagen summit: Major powers broker compromise voluntary climate pact
The US, China, India, South Africa, and Brazil agreed to a voluntary climate pact. President Obama acknowledged that 'we have much further to go.' The deal did not produce commitments on emissions reductions.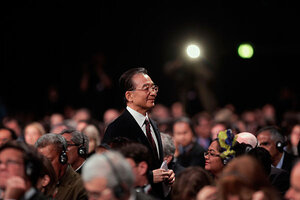 Anja Niedringhaus/AP
The United States and four other countries agreed to a new, voluntary climate pact today. The move, which could become the framework for a broader agreement here, drew responses ranging from cautious acceptance to outrage. But it could prove a historic development in big-power negotiations, say some analysts.
The announcement came at the end of nearly 24 hours of intense talks among nearly two dozen world leaders and their negotiators. In announcing the agreement to reporters from the United States, President Obama acknowledged that it falls short of what the science demands in order to hold global warming to roughly 2 degrees Celsius over preindustrial levels.
But, he added, "it's a first step," one designed to overcome what he called a "deadlock in perspectives" between developed and developing countries and build the kind of confidence between the two camps that will eventually allow for a legally binding treaty.
"But if we just waited for that," added Mr. Obama, "we wouldn't make any progress.... We have to keep moving forward."
The outlines of the agreement reached between the leaders of the US, China, South Africa, Brazil, and India acknowledge the 2-degree goal, focus on the emissions-control actions countries already have put on the table, and include provisions for verification along the lines of those set up by the World Trade Organization.
---