Mumbai attack suspect retracts his confession. Will it affect trial?
Mumbai attack suspect Mohammad Ajmal Kasab is the only gunman captured alive in last year's commando-style rampage that killed more than 160 people. On Wednesday, the prosecution rested its case.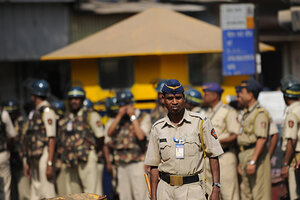 Newscom
Mohammad Ajmal Kasab, the only gunman captured alive in last year's Mumbai attacks that killed more than 160 people, today unexpectedly retracted his confession about his role in the attacks, fueling speculation about the future of his high-profile trial, which the prosecution earlier claimed would end in days.
In a bizarre twist, Mr. Kasab denied his involvement in the attacks, alleging that he had arrived in Mumbai 20 days before it happened to find work in Bollywood films. He claimed the Mumbai police had framed him, and that all his previous confessions were false and made under duress.
The prosecution claims that Kasab's retraction, just one of the many twists in his trial since it began in May, is not likely to have an "adverse effect on the trial." Ujwal Nikam, the chief prosecutor, dismissed his statement as a shrewd ploy of a "dramatic actor" and a soulless terrorist "trained to manipulate people." He said it was a bid to prolong his trial.
Kasab, who is 21 and was dubbed the "baby-faced killer," launched a commando-style raid with nine other gunmen in Mumbai in November 2008, killing nearly 166 people. The only survivor among 10 terrorists, he became a poster boy for terror after he was photographed marching through Mumbai with his gun bared.
---