Afghanistan war: Russian vets look back on their experience
On the 30th anniversary of Russia's invasion of Afghanistan, Russian vets talk about losing more than 14,000 lives in their Afghanistan war that ended in retreat.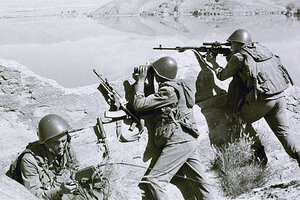 Estate of Alexander Sekretarev/AP/File
Thirty years ago this week, the Red Army began its invasion of Afghanistan, a move that sank the Soviet Union in a decade of guerrilla war and hastened the collapse of the Cold War empire.
Today, as former Soviet soldiers watch American troops trying to pacify the same stretches of Afghan land they once fought for, aging Soviet generals and grunts alike are reminded of a war they'd rather forget.
While Russians are willing, and often eager, to predict utter defeat for US efforts based on their own failure in Afghanistan, they're much less comfortable talking about the pain of reportedly having lost more than 14,000 lives in a war that ended in retreat.
Comparing wars is a process riddled with inconsistency – the Soviet occupation of Afghanistan was far different from the American presence today – but on the eve of the anniversary of the Soviet war, the somber and at times anguished way that veterans in Russia spoke of their time in Afghanistan was a disturbing reminder of the hurdles that American forces now face.
The retired soldiers talk about Afghanistan in terms that echo the American experience in Vietnam: of winning battles but losing the campaign, watching the local population throw its support behind an insurgency and, finally, coming home to a country that no longer understood or supported their war.
---