Bringing circus – and new hope – to a remote Arctic village
Guillaume Saladin left his career as a professional acrobat to help young Inuits in northern Canada form Artcirq, their own performing troupe.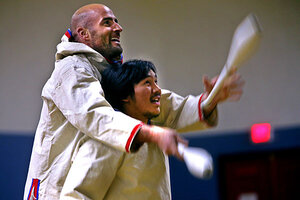 Michele McDonald
Igloolik, Nunavut, Canada
Four years ago, acrobat Guillaume Saladin had an enviable job as a circus performer. He was a member of the acclaimed Cirque Éloize, an innovative Montreal-based troupe combining circus arts with music, dance, and theater. Specializing in gravity-defying hand-to-hand routines – a cross between handstands and dance – Mr. Saladin toured the world, visiting Europe, China, and the Middle East.
But when it was time to renew his circus contract, Saladin found himself wavering. The one place he couldn't get out of his mind was a remote Inuit community called Igloolik, 200 miles above the Arctic Circle in Canada.
The son of two anthropologists, Saladin spent his summers there as a child, accompanying his father, who did fieldwork on shamanism. He had made friends, learned the Inuktitut language, and come to love the tundra landscape he traversed as they visited traditional hunting camps. He was even honored with an Inuit name – Ittukssarjuat – bestowed on him by a matriarch after her father, a respected leader.
But now he was at a crossroads. "Do I tour the world with the same show," he thought, "or [go] to Igloolik?"
He chose Igloolik, arriving on Halloween 2005 with his suitcases and juggling pins. He knew immediately he'd made the right choice. "Everyone was costumed and masked and playing around ... craziness everywhere around town," says Saladin, whose accented English reveals his French Canadian heritage. "Very similar to circus."
---
Follow Stories Like This
Get the Monitor stories you care about delivered to your inbox.