Mexico City move to allow gay marriage irks some residents
Lawmakers approved a bill Monday to allow gay marriage, making Mexico City the vanguard of Latin America's coalescing gay rights movement. But the move angers many in the socially conservative Catholic country.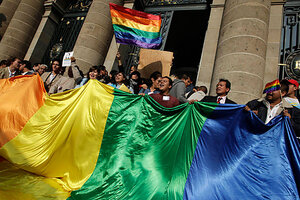 Daniel Aguilar/Reuters
In legalizing gay marriage, Mexico City is now the vanguard of the coalescing gay rights movement across Latin America.
With a vote of 39-to-20, legislators in the capital approved a bill that will make Mexico City the first city in Latin America to approve gay marriage – angering the Catholic Church and politicians from the nation´s conservative ruling party.
The bill redefines the definition of marriage, paving the way for same-sex couples to wed as early as February. Leftist mayor Marcelo Ebrard, from the Democratic Revolution Party (PRD), now must sign the bill into law, which he is expected to do.
Members of Mexican President Felipe Calderón's National Action Party (PAN) have said they will fight the measure in court, as has happened in the US. The bill follows other controversial moves in left-leaning Mexico City, which also legalized abortion in a woman´s first trimester of pregnancy.
But it also comes as deeply Catholic Latin America has increasingly embraced gay rights, once taboo. Buenos Aires became the first city in the region to legalize civil unions when it did so in 2002. Other cities in Mexico and Brazil have followed. Uruguay has done so nationwide. But no place in Latin America currently allows gay marriage.
---