Iran uses Internet as tool against protesters
In Iran, the rare move of issuing a public appeal for help via the Internet suggests that law enforcement authorities are overwhelmed by the range of protesters.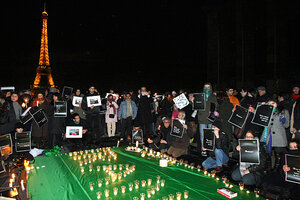 Jacques Brinon/AP
Iran is deepening its fight against the opposition Green Movement by publishing photographs of protesters in the hopes that informants will step forward and identify them to authorities
Two sets of photographs were published on the pro-Ahmadinejad Raja News site, both in the wake of violent Dec. 27 demonstrations on the Shiite Muslim holiday of Ashura. The latest, published Monday, displays 47 images containing about 100 faces circled in red – adding to the 38 photos published last week with 65 faces circled. The announcement offered readers a hotline and a website to give Iranian police tips on the identity of those individuals. In addition, the state-owned broadcaster featured Hojjatolislam Qarayati, a pro-regime cleric, urging all religious Iranians to report demonstrators to the authorities.
"This technique of identifying protesters is basically an appeal to people who know them – i.e. have a grudge – to come forward and hand them in," says James Spencer, director of research and analysis at Scymitar Consulting, a London-based group. "This hasn't altered radically since medieval or Wild West wanted posters."
The rare move of issuing a public appeal for help suggests that Iran's law enforcement authorities are overwhelmed by the range and social spread of protesters spilling onto the streets. While the Revolutionary Guard, known as the IRGC, has been expanding into the Ministry of Intelligence's traditional area of coverage, Iran's professional and ideological army is more accustomed to being used to defend the country from external threats.
---