Gaza border clashes leave Egyptian soldier dead
A Hamas-led demonstration erupted in violence, with one Egyptian soldier killed and at least 20 Palestinians injured after clashes erupted on both sides of the Gaza-Egypt border. The Galloway aid convoy starts to arrive in Gaza.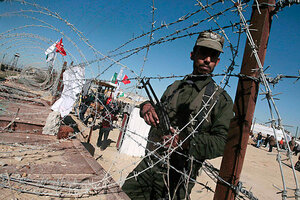 Ismail Zaydah / Reuters
One Egyptian soldier was killed and at least 20 Palestinians were injured after violent clashes erupted on both sides of the Gaza-Egypt border during a Hamas-led demonstration against Egypt's continued closure of its only crossing with the embattled enclave.
In recent weeks, Palestinians have fired on Egyptian border guards as tensions rose after it became known that Egypt plans to build an underground steel wall to stem the rampant tunnel smuggling on its Gaza border. But today marked the first time Hamas militants were involved in a confrontation with Egyptian soldiers.
An aid convoy, led British Parliamentarian George Galloway, was expected to have arrived at the Rafah border crossing by now. The "Viva Palestina" convoy, which left London on Dec. 6, has been delayed in the Egyptian city of Al Arish, some 25 miles from Rafah. There have been reported clashes Tuesday between Egyptian security forces and convoy activists there. An agreement was reportedly reached Wednesday that would allow 158 trucks, but not 40 private cars, into Gaza. Wednesday evening, local time, the trucks began crossing the border into Gaza.
The Hamas Islamist movement violently seized power from its secular Fatah rivals in the Gaza Strip in 2007. Egypt and Israel since sealed their borders with Gaza, allowing in a limited amount of humanitarian aid and significantly curtailing passenger travel. The Hamas-organized protest today, say Hamas officials, was in solidarity with the convoy activists, but was primarily aimed at Egypt's efforts to seal the smuggling tunnels.
---