Global recession ends, economists predict recovery in 2010
Top economists from Moody's and the International Monetary Fund say Asia and Latin America will lead the world's economic recovery in 2010, and the United States will mount comeback, too.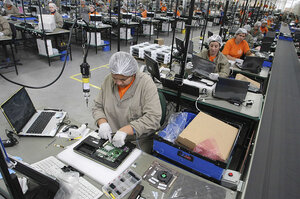 Cesar Ferrari/Reuters
The world can collectively breathe a huge sigh of relief – the global recession is over.
Of course, it may not look that way. Especially if you're one of the 15 million Americans still out of work – or if your house is still worth substantially less than your mortgage. But many "emerging" or developing nations are bouncing back rapidly. China, in fact, is again concerned about growing too quickly. And even the more mature economies, such as those of the United States and Europe, are rebounding, albeit more slowly.
Economists say this two-speed recovery will gather strength in 2010, but warn it will be a long, protracted process to recover prerecession conditions.
Is the global recession really over?
"Absolutely," says Ruth Stroppiana, chief international economist at Moody's Economy.com.
And Dominique Strauss-Kahn, the managing director of the International Monetary Fund (IMF), told reporters in Hong Kong recently: "2010 is going to be a crucial year – the first year after the crisis when countries can lift their eyes to the longer-term horizon." He added that this will be "a year of transformation for the world."
---