Official says top Al Qaeda leader in Somalia killed
The weak transitional government of Somalia claimed Tuesday that its forces killed Amar Ibrahim, a leader of Al Qaeda in Somalia and the Islamist group Al Shabab.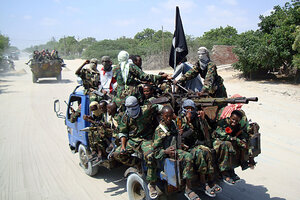 Farah Abdi Warsameh/AP/File
Johannesburg, South Africa
Somali government forces have killed Al Qaeda's top commander in Somalia, a government spokesman said. The killing comes as the government is receiving newly trained Somali soldiers – fresh from boot camps in Ethiopia, Djibouti, Kenya, and Uganda – who have already begun the first forays of a major offensive to push Islamist rebels out of their strongholds in Mogadishu and southern Somalia.
Somali National Security Minister Abbdullahi Mohamad Ali told the BBC that government forces had killed a top Al Qaeda commander but declined to provide the man's name. Somali state radio had earlier reported that the victim was Amar Ibrahim, a Jordanian national and member both of Al Qaeda and of the Somali Islamist group Al Shabab. The radio station, however, said Mr. Ibrahim was killed by his own bodyguards, not Somali troops.
Whatever the circumstances, this would be the second senior Al Qaeda commander to be killed in six months. US and Somali officials say that Mr. Ibrahim had replaced Kenyan-born Saleh Ali Saleh Nabhan, the man blamed for attacks on a Mombasa hotel and an Israeli airliner in 2002, after US Navy Seals killed Mr. Nabhan in a helicopter raid last September.
---