Can Afghanistan Taliban absorb blow to Quetta Shura?
The Afghanistan Taliban is under pressure with 7 of 15 members of its top leadership council, the Quetta Shura, recently arrested. But still in place are senior leaders who might step up and other senior Taliban councils responsible for different parts of the country.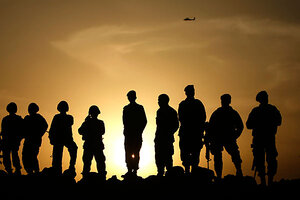 Newscom
The Afghan Taliban now faces what may be its biggest test in recent years, with 7 of 15 members of its leadership council, the Quetta Shura, recently captured by Pakistani authorities.
From its perch in Pakistan, the Quetta Shura is said to act as a nerve center for all of the Afghan Taliban's operations, formulating military and political strategy, appointing field commanders, and managing a shadow government.
Yet still in tact are a roster of experienced leaders who can take their arrested comrades' place as well as several subcommittees that each oversee sections of the country.
This report on the Taliban's leadership structure is based on interviews with two Taliban figures who claim to belong to the council and with Afghan intelligence officials.
A wide-reaching organization
The Quetta Shura is described as assigning and replacing field commanders in Afghanistan, overseeing the Taliban's parallel government in Afghanistan, and fielding complaints from Taliban members. In some cases the Taliban's control over some parts of Afghanistan is so strong that nongovernmental organizations working there – such as the United Nation's World Food Program – have first sought permission from the Quetta Shura to enter the region.
In addition to the top council, the Taliban relies on a number of other shuras to oversee the insurgency. All of these councils answer to the supreme body in Quetta, and membership in the different councils or shuras sometimes overlaps.
---
Follow Stories Like This
Get the Monitor stories you care about delivered to your inbox.