Princess Victoria of Sweden's marriage a crossroads for royalty
The Swedish royal wedding of Crown Princess Victoria and athletic trainer Daniel Westling tests the bounds of progress in the palace – and in Swedish society.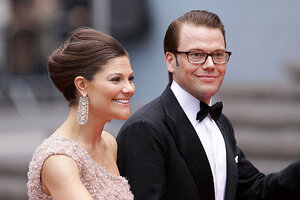 Newscom
He shook like a leaf, she cried like a princess. And so, Swedish Crown Princess Victoria had her prince, a commoner in the guise of handsome gym trainer Daniel Westling.

The Swedish royal wedding at Stockholm Cathedral on Saturday, with 8,000 soldiers and police patrolling rose-draped streets, sealed in matrimony the biggest palace love story since British Prince Charles and Diana tied the knot in 1981.

The 1,000 year-old Swedish royal court hoped to parlay that attention into boosting support for the figurehead monarchy at Kungliga Slottet. Instead, the incessant media coverage of the 8-year relationship between Crown Princess Victoria and now Prince Westling may have backfired, as many Swedes see the pomp and cost as anachronistic – even damaging to a nation politically drawn toward egalitarianism.

"As the media hype reaches its exalted crescendo, Swedes are being forced to take a stand on the issue and many it seems are finding that when pushed they can't stand up for the decidedly unmodern values that all monarchies, constitutional or otherwise, represent, as well as the decidedly irrational arguments used to defend them," writes Peter Vinthagen Simpson in the Swedish newspaper, The Local.

Nonsense, others said. "Congratulations to Crown Princess Victoria & now Prince Daniel of Sweden on their nuptials. Here's to allowing commoners into the gene pool," writes JohnnyGotham on Twitter.
---