Tony Blair memoir: I'd do Iraq again, and I considered firing Gordon Brown
In his new memoir, former British prime minister Tony Blair shares misgiving about the Iraq war – and catalogs his extensive struggles with then-finance minister Gordon Brown.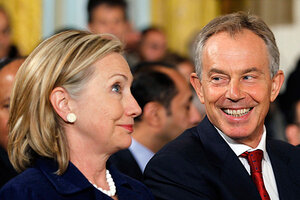 Jason Reed/Reuters
Tony Blair began his leadership as a dashing popular British Bill Clinton -- a fresh answer to "the suit," as Fleet Street called John Major. After 2001, it all went sideways and Mr. Blair's 10-year tenure terminated with him portrayed at home as a "lap dog" for President George Bush.
Now, as President Obama is attempting to bring closure to a war that largely contributed to Mr. Blair's falling popularity, Blair is putting forth his version of events in a 700-page memoir titled "A Journey: My Political Life."
Blair has two serious points for history. Point one: He may have misgivings about Iraq but he would do it again under the same circumstances. Blair hitched his star to a US White House whose vice president, Dick Cheney, Blair says, "Would have worked through the whole lot, Iraq, Syria, Iran, dealing with all their surrogates.... He thought the world had to be made anew ... by force and with urgency." Mr. Bush, he says, has "genuine integrity and as much political courage as any leader I ever met." Blair also writes he once helped Bush identify Guy Verhofstadt, the prime minister of Belgium.
---