From gold rush to gold standard: history's filigree
A timeline of the precious metal's effects on the world – from gold rush to gold standard.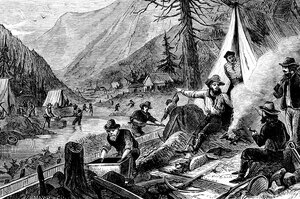 PHOTO: Newscom
•5500-2500 BC Gold is first discovered in the later part of the Stone Age, probably in Mesopotamia.
•3000 BC Gold rings are used for payments in Egypt.
•650 BC The Lydian Lion – a bean-shaped gold piece stamped with a lion – is considered the first true coin. It is first minted by Lydia, the ancient Greek kingdom ruled by Croesus a century later.
•250 BC The Greek mathematician Archimedes demonstrated that the purity of gold can be determined by calculating its density (weight and amount of water it displaces•).•
•AD 1284 Venice introduces the gold ducat, which becomes the most popular coin in world commerce for more than five centuries.
•1511 King Ferdinand of Spain sets the tone for his expeditions to the New World, admonishing his explorers: "Get gold, humanely if you can, but at all hazards, get gold."
•1787 First American gold coin – the Brasher doubloon – is struck by gold- and silversmith Ephraim Brasher.
•1792 The Coinage Act puts the US on a bimetallic silver-gold standard, defining the dollar as equivalent to 24.75 grains of fine gold and 371.25 grains of fine silver.
---