Good Reads: Drones, Al Qaeda, and American exceptionalism
The debate over the use of drones – President Obama's weapon of choice in the war against Al Qaeda – has gathered steam after the killing of US citizen Anwar al-Awlaki.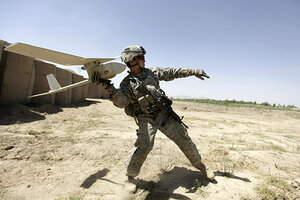 Patrick Baz/AFP/File
It's easy to understand why the notion of fighting a war by remote control would appeal to a politician or military leader. With unmanned aerial vehicles, better known as "drones," targets can be pinpointed from several thousands of feet in the air, fired upon, and eliminated, all without having to put boots on the ground.
Drone wars lack the horrific death toll of traditional trench warfare, like the battles of Gettysburg, Stalingrad, or Gallipoli. Imagine a war without coffins draped with American flags, without yellow ribbons, without post-traumatic stress disorder. But drone wars are not bloodless, and for every "successful" strike against a "legitimate" target like Anwar al-Awlaki, there are several others that go astray, hitting a civilian hospital, a school, or someone who bore an unfortunate resemblance to the target.
The use of drones by the administration of US President Obama – he's used more than any other US president – generates a fair amount of controversy over legalities and morality. Is it legal for a US president to order the death of another human being – and particularly, as was in the case of Mr. al-Awalki, a US citizen – on foreign soil, without congressional approval and without legal due process?
---