Iran loading homemade nuclear fuel rods, firing up new centrifuges
Iran says it now has the next generation of centrifuges to enrich uranium for its nuclear program. But US experts are skeptical of Iran's claims.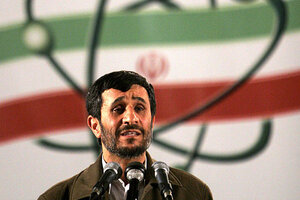 (AP Photo/Hasan Sarbakhshian, File)
Iran trumpeted advances in nuclear technology on Wednesday, citing new uranium enrichment centrifuges and domestically made reactor fuel, in a move abetting a drift towards confrontation with the West over its disputed atomic ambitions.
The announcement underlined Iranian determination to pursue a nuclear program its Islamic clerical rulers see as a pillar of power, protection and prestige despite Western sanctions that are inflicting increasing damage on Iran's oil-based economy.
Russia responded to the announcement by expressing concern about Iran's nuclear program progress but sees no hard evidence of military aims, the Interfax news agency cited Deputy Foreign Minister Sergei Ryabkov.
On Wednesday, Iran also handed a letter to the European Union's foreign policy chief that said it is ready to resume nuclear talks with major powers to discuss the country's disputed nuclear programme, Iran's Arabic language Al Alam television reported.
Iran has been resorting to barter to import basic staples as sanctions, imposed over its pursuit of nuclear activity seen in the West as geared to developing atomic bombs, have spread to block its oil exports and central bank financing of trade.
RECOMMENDED: Iran's five key nuclear sites
Tehran has for some years been developing and testing new generations of centrifuges to replace an outdated, breakdown-prone model. In January it said it had successfully manufactured and tested its own fuel rods for use in nuclear power plants.
---