The Monitor's Weekly News Quiz for March 3-9, 2012
Wait, wait – don't tell me you haven't taken our news quiz?!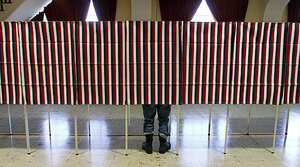 Toby Talbot/AP
Question 1 of 10
1.

At this writing, Gov. Mitt Romney has won more delegates than his three rivals, combined. How many delegates are needed to cinch the Republican nomination?