Why outlook for US-Russia 'reset' looks bearish
Missile defense disputes, mutual suspicion, and US and Russian campaign rhetoric are all breeding acrimony – and the uncertainty is having an economic impact in Russia.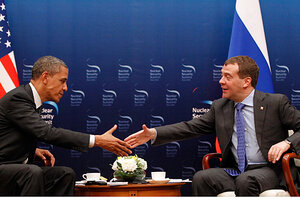 Pablo Martinez Monsivais/AP
Despite the best efforts of President Obama to tamp down controversy, the already troubled US-Russia relationship is looming as a potentially acrimonious foreign policy issue in the coming US presidential election.
Mr. Obama came into office pledging to "reset" ties between Moscow and Washington after several years of deep chill, and there have been some real accomplishments, including a comprehensive nuclear arms reduction accord, New START, which will slash atomic arsenals on both sides by about a third.
But in recent weeks, the "reset" has begun to look shaky. A longstanding rift between Russia and the US over Pentagon plans to build a missile defense shield in Europe has moved into a troubling phase and an accidental slip involving a hot microphone revealed that President Obama's strategy for dealing with Russia is at sharp odds with that of his likely Republican challenger Mitt Romney.
---