Egypt's president reopens parliament, Army response awaited
In ordering parliament to reconvene, President Mohamed Morsi reversed an order by Egypt's generals. It's not clear yet if this is a confrontation or a behind-the-scenes deal.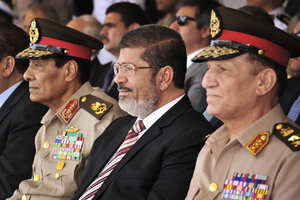 Mohammed Abd El Moaty/AP
Egypt's newly elected President Mohamed Morsi ordered the parliament to reconvene nearly a month after a court ruling implemented by Egypt's then-ruling generals dissolved it.
The decision appears to be a direct challenge to the Supreme Council of the Armed Forces (SCAF), which limited presidential powers and extended its own before handing executive authority to Mr. Morsi at the end of June. Yet some see it not as a confrontation but as the result of negotiations between the president and the military council. Either way, it prolongs the legal uncertainty that has clouded Egypt's transition for the past year and a half. 
In an executive order issued today, Morsi withdrew a previous decree to dissolve the parliament, issued when the military council held the role of the executive. The military rulers issued that order after Egypt's Supreme Constitutional Court found that the law governing the parliamentary elections was unconstitutional, and said the assembly should be disbanded. Morsi's decree ordered the parliament to reconvene, but said new parliamentary elections would be held two months after a new constitution is adopted.
The SCAF called an emergency meeting to discuss the move, according to state media.
The decision comes as Morsi and the generals are locked in a power struggle. The decision to dissolve parliament, issued by a Hosni Mubarak-appointed court, was seen by many as part of a power grab by the SCAF just before it handed over executive power. After the court decision, SCAF issued an amendment to Egypt's interim constitution that limited the president's power and extended the power of the military rulers, including by taking legislative authority for itself until a new parliament was elected. 
The Muslim Brotherhood, the movement to which Morsi belongs, rejected the generals' moves. The Brotherhood had been in negotiations with the SCAF over the generals' constitutional amendments, the return of parliament, and the makeup of Egypt's new government, since Morsi's victory. It was unclear whether Morsi's decree was a result of failed or successful negotiations.
Khalil al-Anani, an expert on Islamist movements at Durham University, said either way Morsi is flexing the muscles of the presidency. "Regardless the underlying reasons behind Morsi's decree, it's a bold and significant step from Morsi to show his powerful presidency. Until we know the reaction of SCAF, this decree reflects Morsi's sense of self-assertiveness and confidence," he said. "The question is to what extent Morsi can defy the military and challenge their power."
The extent of the confrontation between the generals and the Brotherhood may quickly become clearer. Brotherhood leader and former parliament speaker Saad al-Katatni has called on members of the parliament to reconvene. After the decision to dissolve parliament, military and police blocked members from entering. If Morsi's decree marks an escalation against the military, "we will probably see some of the military banning the MPs from entering the parliament, and Tahrir will fill again … and then it's time to see who blinks first," says Omar Ashour, a visiting fellow at the Brookings Doha Center.  
---