Britain and Ecuador take steps to resolving Assange row
On Sunday Britain expressed interest in reopening a dialogue with Ecuador regarding the presence of WikiLeaks founder Julian Assange at the Ecuadorian embassy in London.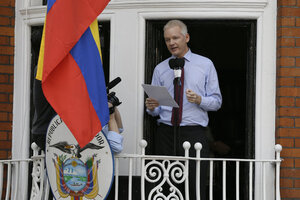 Kirsty Wigglesworth/AP
Britain said on Sunday it remained committed to reaching a diplomatic solution to the presence of WikiLeaks founder Julian Assange in Ecuador's London embassy, after both countries took steps to defuse a row over his action in taking refuge there.
Assange has been living in the embassy's cramped quarters for more than two months since fleeing there to avoid extradition to Sweden, where he is wanted for questioning over rape and sexual assault allegations.
The Latin American state's leader said on Saturday that Britain had withdrawn a threat to enter the embassy to arrest Assange, to whom Ecuador has granted asylum, and that he now considered the "unfortunate incident" was over.
President Rafael Correa was responding to a British assurance that it was not threatening the embassy and that Britain was committed to the Vienna Convention, which protects the inviolability of diplomatic premises.
"We remain committed to the process of dialogue we have entered into and we want that to resume with the government of Ecuador," a British Foreign Office spokeswoman said.
Britain provoked a furious reaction after telling Ecuador that an obscure British law allowed it, under extreme circumstances, to remove the embassy's diplomatic status, exposing Assange to immediate arrest by police.
---