Speculation abounds over Chinese president-in-waiting's low profile
Xi Jinping, next in line to become China's president, has not been seen publicly for more than a week.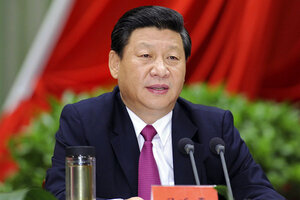 Xinhau, Li Tao/AP
Where is president-in-waiting Xi Jinping?
Is he nursing a bad back after pulling a muscle in a pick-up soccer game (or maybe in the swimming pool)? Has he been convalescing after narrowly escaping a revenge killing by supporters of ousted local Communist Party boss Bo Xilai? Was he in a car accident? Or is he just really busy getting ready to lead the world's No. 2 economy ahead of an expected leadership transition next month?
Chinese micro-bloggers and overseas websites have come up with all kinds of speculation as to why the current vice president has gone unseen for more than a week. During that span, Xi canceled meetings with visiting foreign dignitaries including U.S. Secretary of State Hillary Rodham Clinton and Singapore Prime Minister Lee Hsien Loong. On Monday, it was the Danish prime minister's turn.
Xi's whereabouts during this sudden absence from the spotlight may never be known. One thing, however, is certain: China may now be a linchpin of the global economy and a force in international diplomacy, but the lives of its leaders remain an utter mystery to its 1.3 billion people, its politics an unfathomable black hole.
So when the presumptive head of that opaque leadership disappears from public view, rumor mills naturally go into a frenzy.
"There is a longstanding practice of not reporting on illnesses or troubles within the elites," said Scott Kennedy, director of Indiana University's Research Center for Chinese Politics and Business in Beijing. "The sense is that giving out such information would only fuel further speculation."
---