China moves to quell anti-Japanese demonstrations
The Chinese government is reigning in the sometimes violent protests against Japanese businesses, amidst rising anti-Japanese sentiment over a group of disputed islands in the East China Sea.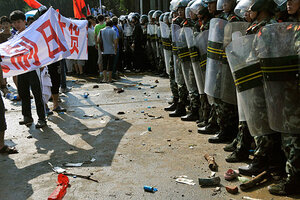 AP
China moved to tamp down rising anti-Japan sentiment after a weekend of sometimes violent demonstrations, threatening Monday to arrest lawbreakers and scrubbing websites of protest-related images and posts.
But Japanese businesses were taking no chances, with restaurants and shops in Beijing, including popular clothing retailer Uniqlo, closed on Monday. Factories belonging to electronics maker Panasonic, two of which were damaged over the weekend, also were shut.
More demonstrations were expected Tuesday, the anniversary of a 1931 incident that Japan used as a pretext to invade Manchuria before World War II. Officials in at least one district of Beijing advised Japanese businesses not to open on Tuesday, Japan's Kyodo News agency reported.
Tensions have been growing for months in the dispute over ownership of a string of uninhabited islands in the East China Sea called the Senkaku in Japan and Diaoyu in China. Those came to a head last week when the Japanese government said it was purchasing some of the islands from their private owner to thwart a Japanese politician's plans to buy and develop them.
China reacted angrily, sending marine patrol ships inside Japanese-claimed waters around the islands, which Tokyo has administered since 1972. Some state media urged Chinese to show their patriotism by boycotting Japanese goods and canceling travel to Japan.
---