Robert Mugabe wins (again). Opponent cries fraud
Robert Mugabe was declared winner of Zimbabwe's election with 61 percent of the vote. His main rival Morgan Tsvangirai said the results were a "monumental fraud."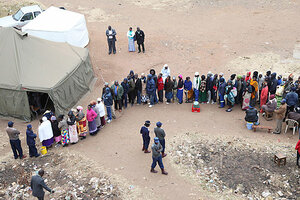 (AP Photo/Tsvangirayi Mukwazhi)
Africa's oldest leader Robert Mugabe was declared winner of Zimbabwe's disputed election on Saturday, while his main rival Morgan Tsvangirai dismissed the result as a fraud and said he would challenge it in court and in regional forums.
Mugabe, 89, who has ruled the former British colony in southern Africa since its independence in 1980, was formally proclaimed re-elected for a five-year term barely an hour after Tsvangirai announced his planned legal challenge.
"We are going to go to court, we are going to go to the AU (African Union), we are going to go to the SADC (Southern African Development Community)," Tsvangirai angrily told a news conference in Harare. He rejected the result as "fraudulent".
While African observers have already broadly approved Wednesday's peaceful vote, independent domestic monitors have described it as deeply flawed by registration problems that may have disenfranchised up to a million people.
Western observers were kept out by Harare.
In its strongest criticism so far of the poll, the European Union said on Saturday it was concerned about alleged irregularities and a lack of transparency in the election.
The EU's verdict on the fairness of the vote will be crucial to deciding whether it continues to ease sanctions on the southern African country. These were originally imposed because of previous accusations of vote-rigging and abuses of power made against Mugabe and his followers.
---