Grannies of South Africa's AIDS orphans look to 'Mama' for support
Ingrid Moloi runs a support group for grandmothers of AIDS orphans in a poor township in Johannesburg.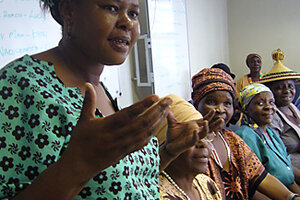 Danna Harman
The golden years. A time to relax. Maybe even indulge in a few luxuries. That's what these grannies dreamed of, but circumstances have been unkind.
Of the more than 11 million African children who lost parents to AIDS-related illnesses in the past decade, according to the UN, 40 to 60 percent are cared for by grandmothers.
Here in one of South Africa's poorest townships, Ingrid Moloi decided to help lessen the burden they face. For a handful of grannies – or go-gos as they're called here – her support group has become a lifeline.
"These meetings are about talking about what's inside our hearts," says Tabitha Mokoena, who has eight orphan grandchildren ranging from age 3 to 20 sleeping on the floors of her two-room shack.
"Sometimes when I start to talk, I cry," says Ms. Mokoena. "We all start to cry … about the stresses in our hearts. I don't know how these children will grow up."
Ms. Moloi, 33 years old, is unlikely to become a grandmother. Raped by her father at age 12, she contracted HIV and, a few years ago, was on her deathbed.
But, then, she says, her body began to respond to treatment. She gained weight, got up on her feet, stopped coughing, combed her brittle hair into a fashionable do, and came to Friends for Life, a local nongovernmental organization, for counseling. Soon, she became a volunteer counselor herself. "I feel," she reflects, " … like I asked God for a second chance at life, and when he gave it to me, I needed to make a difference."
Moloi soon realized that not only the sick needed help, but so did their caretakers. And that, five years ago, is when she put a small notice on the community center bulletin board, calling for a grannies get together.
---