Street kids get lessons in life at surf school
In Muizenberg Beach, near Cape Town, surfer Gary Kleynhans teaches poor kids discipline, respect, and how to ride the waves like a champ.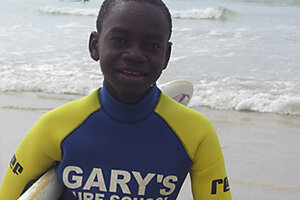 Danna Harman
Muizenberg Beach, South Africa
They would just sit there on the beach, every day, watching, says South African surfer Gary Kleynhans.
Then, one day, he called them over. "I could see from their enthusiasm that they wanted to try," he says. "And I thought, 'Let me give these kids a go.'"
And so he started free surfing classes for the street kids of this windswept beach town. Word spread fast, and six little students became 10, then 20. "It was total chaos, Man," shrugs Mr. Kleynhans. "My boards were getting smashed. The kids couldn't swim. Chaos. But I got into it. Actually, I loved it."
Seven years later, Gary's Surf School on Muizenberg Beach has the classes under control and can boast of a generation of black, underprivileged kids who have not only learned to ride waves, but also picked up some important life skills – discipline, respect, and punctuality – along the way.
"In the water, the playing field is open," says Kleynhans, a tanned man in flip-flops who somehow easily alternates between waxing poetic and tearing up the waves, and cuffing his charges on the back of the head. "In the water there is no level of society. It's about ability and perseverance.... It's a neutralizer. It's awesome."
From drop-out to surfing champ
Born in the southern African country of Angola, John De Castro's parents split up when he was 3, and his father took the 10 children to look for a better life in neighboring Namibia. That did not work out. Four years later, they came to South Africa and settled here, in a two-room apartment in Muizenberg.
---