How Kenya came undone
Long-simmering ethnic tensions threaten to tear apart East Africa's most stable, prosperous country.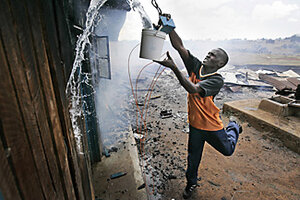 Ben Curtis/AP
They came at night by the hundreds, shooting villagers with arrows and attacking them with knives, hatchets, and farm tools. The killings were a warning to the rest of the village: Leave now, or die.
"These people were our neighbors, I knew them, but what I have seen is something that I cannot explain," says Julia Muthoni, an elderly widow who found refuge in the city of Nakuru. "The problem is that we Kikuyus are being targeted because we voted for the reelection of President Mwai Kibaki. Even before the election, they were threatening us saying that whether Kibaki wins or not, Kikuyus are going to be evicted."
Just a few weeks ago, Kenya remained an oasis of stability surrounded by nations at war. The tourist-friendly country is East Africa's economic engine, a hub for global trade, and a base for international humanitarian work. It has been a been a model of what other African countries could achieve if they worked hard, developed their economies, and embraced free democracy. So the explosion of violence that has left more than 750 people dead – including more than 100 in the past few days – and forced a quarter-million to flee their homes since the disputed Dec. 27 presidential election came as a shock to many. But under the placid surface, Kenya boils with deep ethnic resentment that some observers say has been ignored for too long.
---