African kids get a lesson in street smarts
Moby's bassist teaches children how to stay safe on Africa's dangerous roads.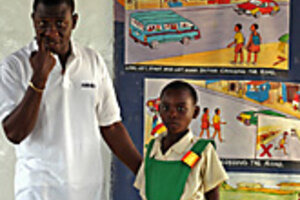 Tugela Ridley – Special to the Christian Science Monitor
Bad driving, poor pedestrian awareness, crumbling roads, and old vehicles help conspire to make Africa the most dangerous place on earth for road safety.
The World Health Organization (WHO) calls road traffic crashes "the biggest killer worldwide of people aged 10-24 years" and predicts that fatalities will increase by 80 percent in Africa by 2020. In rich countries such as the US, that figure is forecast to decline by 30 percent.
These statistics bothered Manhattan-based musician and Web designer Jeffery Witte so much that he decided to start Amend, a nonprofit group dedicated to protecting children from traffic accidents. The group is now teaching children in the West African nation of Ghana a range of road safety techniques.
Road accidents are "a huge and growing problem in developing countries where it comes as a consequence of a good thing, economic growth," says Mr. Witte, who is emphatic that he does not want to be seen as "a charity do-gooder." "My motivation is to build a business that is sustainable and has an impact on the ground."
---