Namibia, the land of meat lovers
The cultural equivalent of the American hot dog, grilled beef – kapana – is the street food of this cow-revering nation's rich and poor.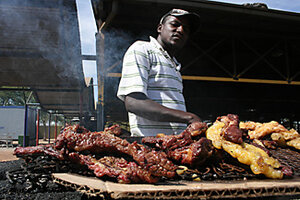 Stephanie Hanes
By the time the sun rises over this desert township, Benjamin Cornelius is already getting the grill good and ready. He's bought wood elsewhere in Katutura, the settlement formed when apartheid-era leaders moved the capital's black residents here in the 1960s, and has started up his fire. After dawn, he browses the carcasses splayed out on the stalls behind him, looking for the right cuts of beef at the cheapest price.
Then, just before the market opens at 7 a.m. and the crowd starts clamoring for its breakfast, Mr. Cornelius – along with a dozen other grillers – begins to cook.
"I've been selling kapana for three years," he says as he jabs at a pile of meat and fat, beads of sweat on his forehead visible through the smoke. "It's hard work."
This vast, arid country is a land of meat lovers, and proud of it: The ministry of trade and industry announces on its website that "the quality of Namibian meat is globally unrivaled." One ethnic group, the Herero, believes cows are so beautiful that their matrons should try to resemble them – they wear wide, fabric-heavy dresses and stuffed, triangular-shaped hats that are supposed to resemble horns.
Although cows are often seen as a type of currency – a rich man might boast a herd of a few hundred animals – there is no prohibition against eating them. Quite the contrary. "Bring your own meat" is this country's form of potluck. As in neighboring South Africa – the country that ruled over Namibia during apartheid and is still considered a sort of cultural big brother here – the braai, or barbecue, could be considered Namibia's national pastime.
"There is no meal without meat – eish!" exclaims Philly Hukura, a Katutura resident who gives tours of the township. "And if you're talking about meat, you're not talking about chicken or fish. You're talking about red meat."
---